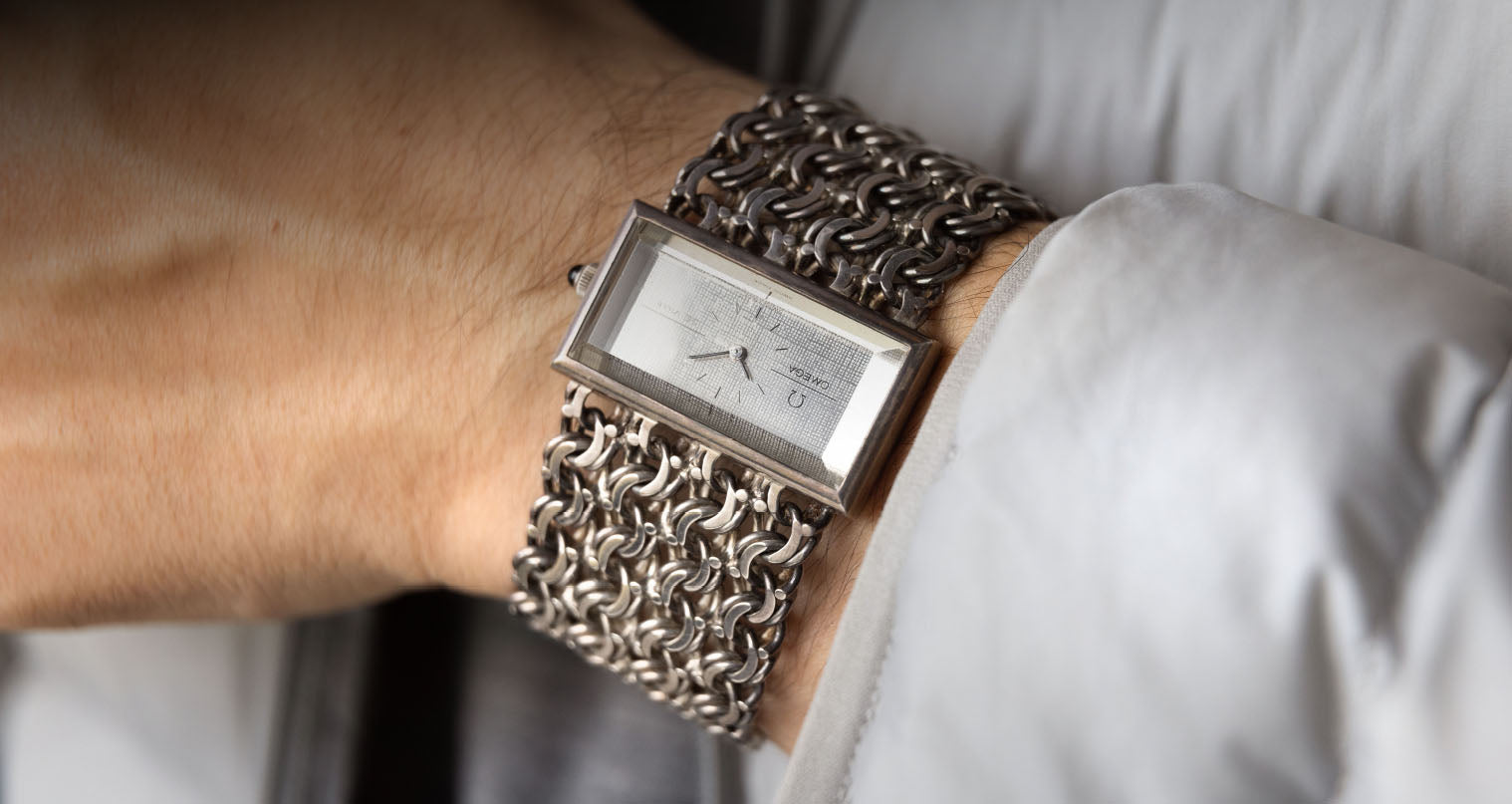 The Andrew Grima Omega Years
When we think about Omega, the obvious watches that spring to mind are the sporty duo of the Speedmaster and Seamaster. If you are long time followers of Bulang and Sons, you will also be aware of the incredibly beautiful oversized Calatravas of the 1940s and 50s. There is, however, a world of undiscovered Omega gems that are very much growing in popularity in the current trend towards unusual and interesting case designs. It's not just brands like Cartier and Piaget that made fascinating and funky shaped watches over the past half century. Omega has several incredibly cool and unusual watches in its rich history, none arguably more interesting than those designed by or inspired by English jeweller Andrew Grima. Today we take a look at the Englishman's incredibly forward-thinking designs and some of the watches that have been inspired by his work at the brand.
Imagine the swinging 60s in London, the true heyday of English cool. There was one man who surpassed all others as the man of the moment when it came to jewellery and that was Andrew Grima. He was regarded as the foremost designer of modern jewellery in the 60s and 70s and had an exclusive boutique on Jermyn Street in the heart of London's Mayfair. His work was high end and bespoke and, fittingly for the regal part of Mayfair, St James's, his clients included British Royalty including both Queen Elizabeth II and Princess Margaret. So much a part of English jewellery royalty was Grima, that his work is part of the Victoria and Albert Museum. Whilst he was the leading light in British jewellery design, until the very end of the 1960s he had never designed a watch, having been quoted as saying:
"If you need to know the time, you ask your chauffer."
Andrew Grima
The About Time collection
All that changed in 1969, wen over dinner in Philadelphia, Omega's Director of Production Robert Forster commissioned Grima to design a collection of watches for the brand. Grima was eventually persuaded but had a list of stipulations that he insisted be part of the deal. The first, and in today's market the most unbelievable, was that the watches were not to feature either name of the two brands involved – Grima or Omega. Secondly, each piece was to be hand made in London and then taken to Switzerland to Omega's headquarters in Bienne for the movements to be fitted. The movement fittings had to be done collaboratively between Grima's artisan jewellers and the technicians at Omega. Forster agreed and so began the About Time collection.
Later that year Grima took wooden models to show the Board at Omega. An initially tense meeting bore fruit and he was given the green light to produce the 55-piece About Time collection. The wearable works of art were conceived as pieces that the wearer told the time by "seeing through gemstones". The watches were often set in ornate precious metal bracelets or bangles with the watch face hidden behind cut gems in pieces such as Pyramid, Carribean and Carré. The point about these watches was that they were pieces of incredible jewellery that 'happened' to tell the time. There were also pendants, rings and pocket watches all in cases that were fantastic sculptures and had plain dials without and makers mark or even hour markers.
Grima wore a Teak model for most of his life, a watch that his daughter now wears the watch with a smoky quartz dial and gold case in rectangular shape in yellow gold that resembled teak. Grima used nature and naturally occurring materials as the inspiration for the collection. He chose to wear his personal model on a leather strap.
The Time in Style series
The watches were a huge success and to capitalise on this, later in the 1970s Omega launched a range of watches inspired by Grimas work. The Time in Style series of watches were more affordable and marketed through the De Ville, Constellation and Jeux d'Or ranges. Unlike the original Grima series, the Time in Style watches did in fact have Omega on the dials, more conventional dial layouts including hour markers and were entirely made in the Omega factory.
Time in Style pieces have become highly sought after by collectors of both Omega watches and Grima jewellery, which itself is incredibly collectible now. Interestingly, some of the watches that Omega chose to produce were reissues of About Time pieces, such as the Teak model that Grima loved to wear so much. The later version was supplied in a bark textured gold bracelet, with some very early examples having clasps signed 'A Grima' and 'Omega', which begs the question, did Grima in fact actually work on some early examples of the later watches?
We really love these cool watches and have some stunning examples to offer. One of the most Grima-esque is this De Ville watch which is made in the form of a cuff in sterling silver. The plexiglass crystal has two facets that are made to resemble the way that Grima cut the stones on some of the About Time collection watches with precious stone crystals. The cuff looks like an oversized ring and is very unusual. We love the fantastic patina on the silver of the case, which matches the way the vertically brushed dial has faded from blue to an almost copper tone.
Another fascinating piece we have is the De-Ville Tiger Eye. The watch has an integrated bracelet of silver hoops that connect to the watch head that is oval and has a tiger-eye stone effect dial, again a huge inspiration from Andrew Grima's designs. The crystal is also cut like a gemstone at the edges. Cool and as much a piece of jewellery as it is a watch.
We also have two De Villes that are presented on chainmail bracelets, one with a silver dial and one with a blue dial. Both have cushion form rectangular cases and the silver dial example has a Grima-inspired textured dial. Interestingly, both had the subtle almost gem-cut crystals that scream a Grima design and are beautiful wearable works of jewellery art that can also tell you the time, without asking your chauffer. Just how Andrew Grima would have liked it!
When you are interested in the full insight into Andrew Grima's life, work and creations get this great coffee table book with over 330 pages full of great images and stories about his career.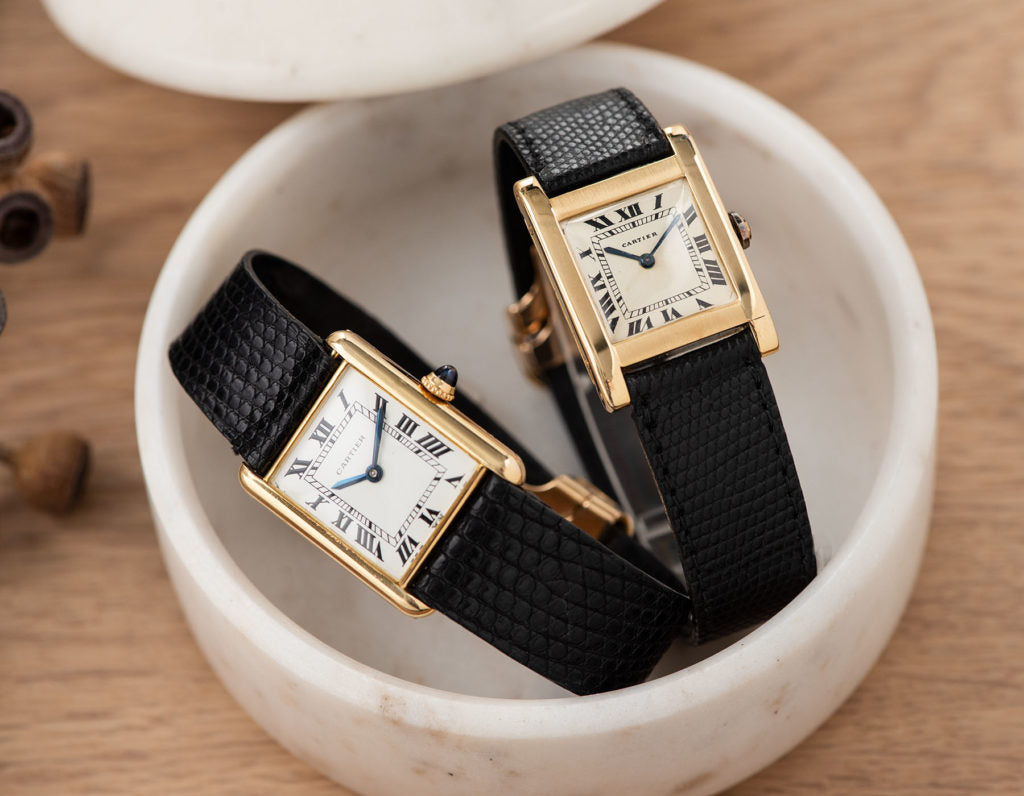 When it comes to unstoppable forces in watchmaking, three or four years ago you would have listed Rolex, Patek, possibly Omega and at a push Richard Mille. If you were to ask people to name them to...
Read more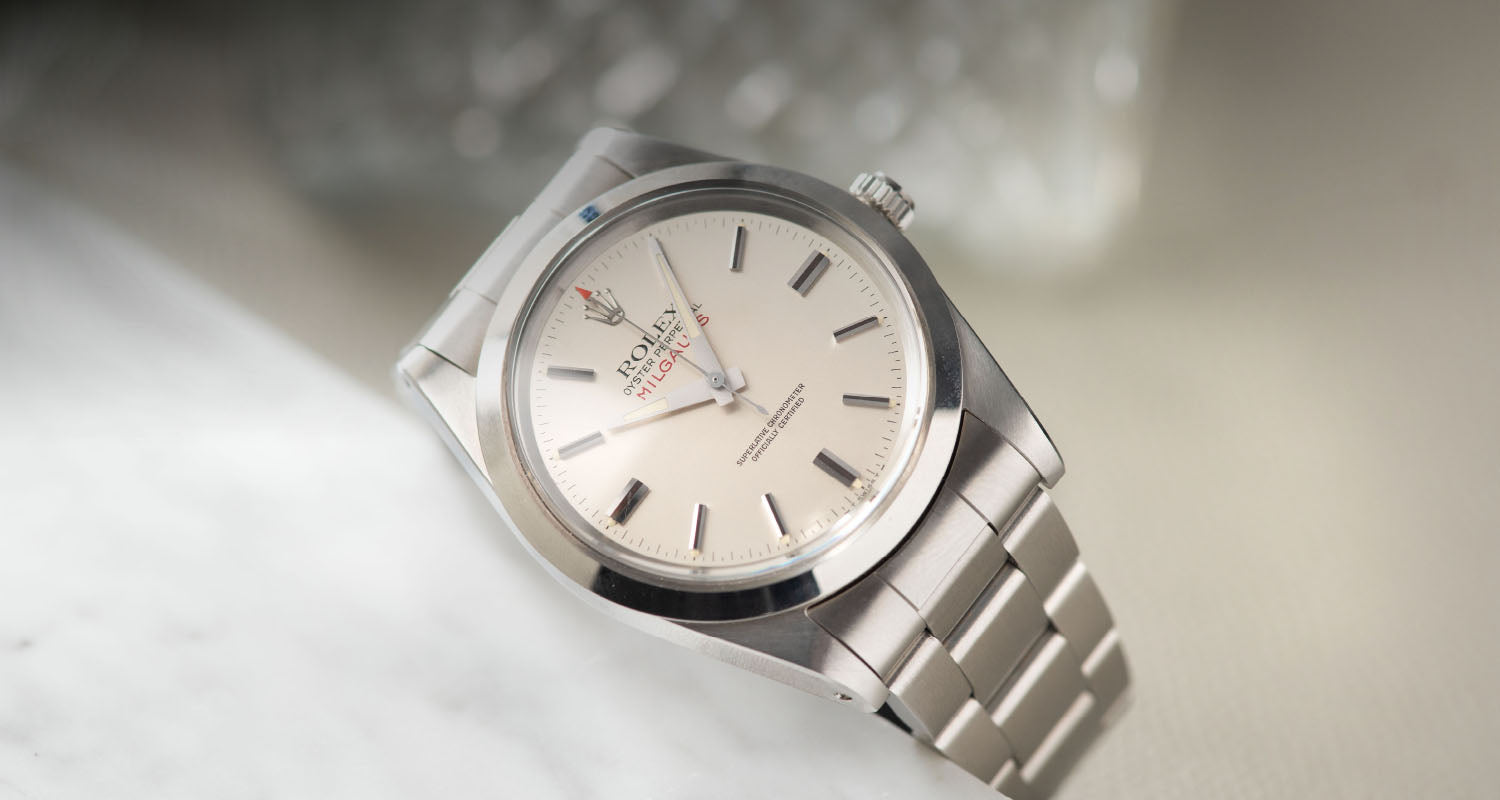 A Big Draw – The Rolex Milgauss
The first Milgauss was released in the mid 1950s and it has always been something of a mystery in the pantheon of Rolex sports watches. The watch was developed to be resistant to very large magneti...
Read more