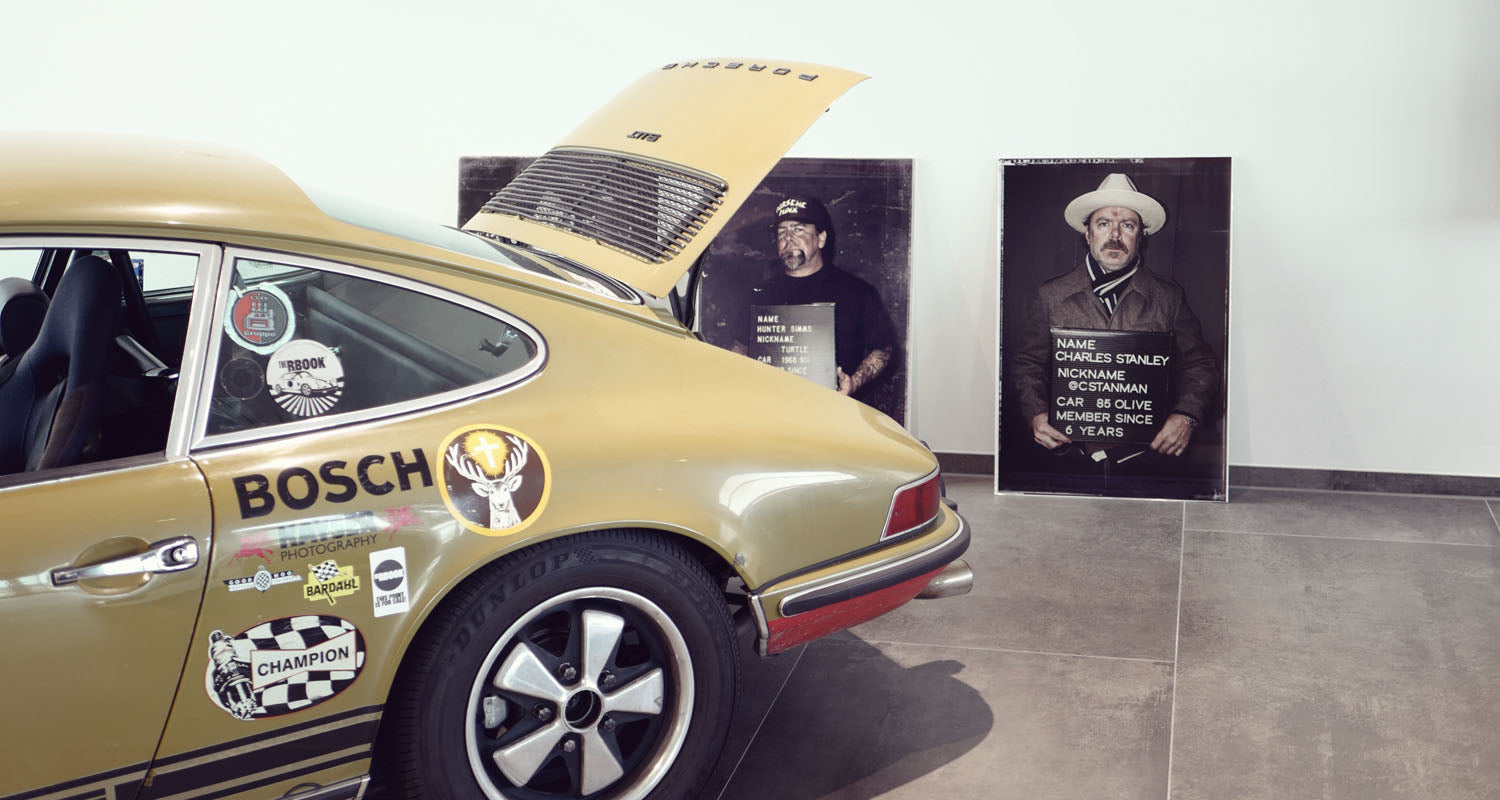 The Porsche R-Gruppe - It's not just a car club it's a brotherhood
Dear watch friends,
Every now and then you find something that really takes your excitement to the next level. And I am both happy and excited to share with and offer to you 'The R-Book'.
My biggest passion back in my designer days was creating books for museums and artists and so I was directly triggered when I saw this book. Trust me, I know the deep passion, hard work and endless hours sit takes to create such cool book. This is one of the coolest Porsche books I have seen yet. A must-have for every Porsche Lover.

Bernhard Bulang

The R-Gruppe
Moreover, I was triggered by the absolute coolness of the images and deep insight into the brotherhood and special vibe of one of the most famous and notorious Porsche Clubs in the world. The R-Gruppe in California is an elite band of 'misfits', as they call themselves, that are completely passionate about their Porsches and maybe even more about their fellow members in the club. As one of the members says, "it's all about the people!"

Click images to view Gallery 
 580 pages, 5 Kg and 840 images full of pure vintage Porsche Passion... you can buy here.

Founded around 20 years ago in California, and strictly limited to a maximum number of 300 members since, the R Gruppe is almost the heart of Porsche life in the USA. From firefighters to incredibly wealthy architects, the members of R Gruppe aren't united only by their passion for historic Porsches. The club stands for friendship, freedom and solidarity; for the joy of being on the road and for a life where the journey is always the destination.

I could not agree more. This is the same feeling I have had for collecting vintage Rolex watches for many years (and goes the same for collecting watches in general); the deep friendships, joy of watches, wearing them, rocking them and celebrating this passion with likeminded people. Low ego…big fun…that kind of attitude.

This is exactly how you feel when you look at the hundreds and hundreds of images in the book. Shot by an internationally renowned photographer Frank Kayser. Whether on aircraft carriers, space stations or chases with combat helicopters and a sports car, Frank Kayser stages exciting international photo campaigns for Porsche, Porsche Motorsport, Audi, Audi Sport, BMW, Lamborghini and many other well-known automobile manufacturers. Always with him, his Leica M10 & MP 240. He worked for almost two years on this book to create an absolute masterpiece.  More information at frankkayser.de. 
The R-Gruppe - Attitude
Ultimately, what matters here isn't where you come from and what you have, but who you are and how you get involved. The club celebrates the "California attitude", a particular approach to life that embraces individual freedom and authenticity, in its purest form. This is also one of the reasons why the group has since become popular far beyond the borders of California and, with just 300 members, is perhaps the most sought-after membership in the Porsche world. Unnecessarily elite, you might say. Sure, they could easily and happily have 5,000 members, but that's not what they want. That's why some have been waiting years to be admitted. Because it's worth it.
A day with the boys
Frank invited me and my sons to the launch event of the global traveling exhibition of some of the amazing images in the book. Hosted at the Porsche Experience Center at the Hockenheim racetrack in Germany, the event was attended by around 100 passionate Porsche drivers and their special cars. A day my two sons and I enjoyed so much, as a bonding experience, as we are all Porsche lovers. But also, it was such great fun to meet all the relaxed and down to earth passionate car-aficionados, enjoying their cars, track-day drive, the great food, fun and most important the like-minded people.

Porsche hosted the event and offered the right decor for the occasion. It was so great to see all the generations of early 911 up to the modern GT3RS, GT2RS and up to the supercar Porsches like the 918 Spyder and Carrera GT. Also, it was great fun to see a Singer Porsche live. So much to show…enjoy the images!

Click on a image and enjoy the Gallery in full screen.



It was such great joy to meet so many car lovers also wearing their Rolex watches. It seems to be mandatory with every Porsche LOL! And yes, I totally see the connection. As I feel the same about a nice vintage Submariner or a 911. These are all-time classic objects of desire; tools for a task and also full of joy. With both, however, each car or watch is different, has its own story, aging, styling, look and offers endless fun for years to come as well as a very personal connection with its owner.

And this is what we saw in all elements of the event. Each Porsche 911, 914, 930, 964, 993, GT3RS, etc told its own story with so much character. As did the owners. We took so many great images and we are happy to share some of the vibe and cars that participated with you guys here. Click on one of the images in the gallery above and enjoy the many images in full screen.

Meeting Frank Kayser - The man behind the R-Book
It was also such a great pleasure to meet Frank in person and hear his stories when he guided us through the exhibition and told us many cool stories behind the images. Shots at 5.00 AM when the club launches his trips and trying to catch up with Chad McQueen, dessert dogs hunting him to get the right shot, dare-devil rides in the Californian blistering sun.

Bernhard Bulang and Frank Kayser
Chad McQueen, son of Steve Mc Queen. One of the 300 members of R-Gruppe
Frank and his team have put almost two years of their lives and their hearts and souls into these images and the book. And the result is amazing. A 580-page book, almost 5kg of pure joy and 840 brilliant images of awesome cars, candid visits to member's private garages, and beautiful Californian landscapes. The book also has a number of well written essays about the history and the attitude towards life of America's cult Porsche car club.

It is a book every Porsche lover needs; a must have for sure. We are proud to be able to offer you the R-Book in our shop. In the regular edition as well as in the limited edition. Of which only 700 have been made.


Additionally, soon we will also offer you some of the images in a fine art collection. A hand-picked selection of the images printed in super high resolution on museum grade paper with a unique light silver bromide-like shiny coating, like the finest art images you know.
The prints will be presented in beech wood frames and hand made in Germany.


The R-Book - 5KG OF PORSCHE LOVE  
It's not about a club.It's not only about old Porsches.It's not only about guys and landscapes. 
This one is about freedom, individuality, friendship, 
 being a crew, passion for cars, and enjoying the ride. 
This one is an attitude towards life.
Frank Kayser
Frank's R GRUPPE book is the sum of all the ingredients above, just add 14 months of hard work, thousands of miles by land and air, countless hours of talks, 200,000 pictures shot, perspectives, spirits, grown friendships, adventures, risks, and a band of Porsche misfits. The beast is 580 pages strong and comes with a level of detail and storytelling beyond what you have ever seen before. If you're looking for amazing photography and amazing cars, this is the one, if you're looking for some of the greatest characters in the Porsche world, again the one, if you're looking to dig deep into Porsche history and have a little lesson about Californian 911 culture, this one is for you.
When we asked Frank what makes this book so special, he told us that he doesn't know a second club on this planet consisting of such diverse individualists, living the spirit of the free while forming such a special brotherhood around their shared passion. He's been welcomed like a brother from the get-go, and it felt like coming home. Thus, the book's turned out to be one of the most important works of his career, not because of all the work or the risk he took but because he himself became a part of all this.
You will find all the greatness split up into 580 pages, offering a diverse mix of photography, storytelling and knowledge. Starting with an intro on California Attitude to 32 amazing home stories with the OGs doing their thing with their beloved flat sixes, Frank joined all the meetups, tours, races, had a look into the garages, secret stashes and history books, giving the full inside scoop on the R GRUPPE way of life. And having fun all the way!
Most of the vehicles shown in the book are also more than 50 years old. Each one is unique and has been modified with loving attention to detail. No two cars are alike. More powerful engines and personalized vehicle details are instead the unofficial hallmark of the R Gruppe. They like things faster, more uncommon, more individualized. So that a 911 becomes your own 911.
The 'regular' version of the R-Gruppe Book you can shop here...
The 'Limited Edition' R-Gruppe Book comes with a special cassette and decal. Get your limited edition of the R-Book here...
The R GRUPPE book itself is a piece of art, produced front to end in Germany.
Art-book printing, bookbinding, handmade slipcases, everything has been manufactured to the highest standards.