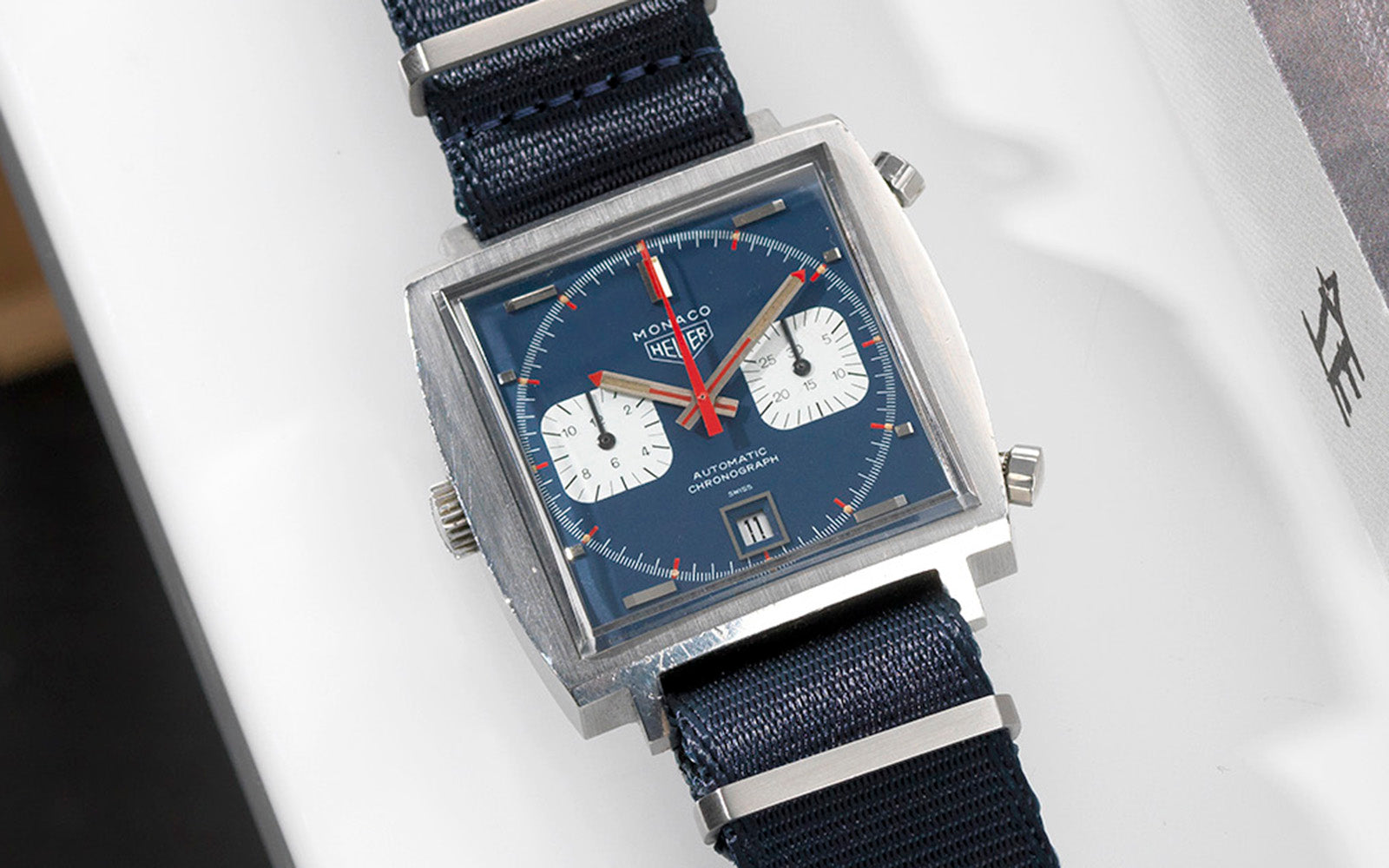 Strap Guide – The Blue Heuer Monaco
Welcome to the Bulang and Sons Strap Guide. Our aim is to showcase some of our most popular straps on a range of iconic watches so you can see how the different combinations work.
The Blue Heuer Monaco
This iconic racing chronograph will always be linked to one of the coolest movie actors of all time – Mr Steve McQueen, who wore one in the film Le Mans. The Monaco is a cool looking watch in a square stainless steel case housing a  blue dial with unusual 'parallel' hour markers and red accents.  The watch features an additional unusual quirk with the chrono pushers on the right side and a winding crown on the left.
The Monaco is a very cool watch that is a racing icon. Today we have chosen a vintage  1133B in stunning condition to showcae our straps. What could look better than one of our punched suede straps, with interesting texture to add an additional layer to your look. A classic side-stich vintage leather strap or Grey Canvas and Leather is cool for those weekends when you wear it with your jeans and M-65 jacket! Whichever way you want to race your chrono, we have the finest selection of 22mm straps to suit your Monaco.
Buying your perfect strap couldn't be easier – click on your favourite combination and you will be directed to the product in our shop, where you can easily check out.
22mm – Siena Brown Leather Watch Strap
22mm – Black Leather Watch Strap
22mm – Refined Rugged Grey Leather Watch Strap
22mm – Lumberjack Brown Leather Watch Strap
22mm – Smokeyjack Grey Leather Watch Strap
22mm – Caramel Brown Leather Watch Strap
22mm – Diablo Black Leather Watch Strap
22mm – Deluxe Nylon Nato Watch Strap Navy Blue