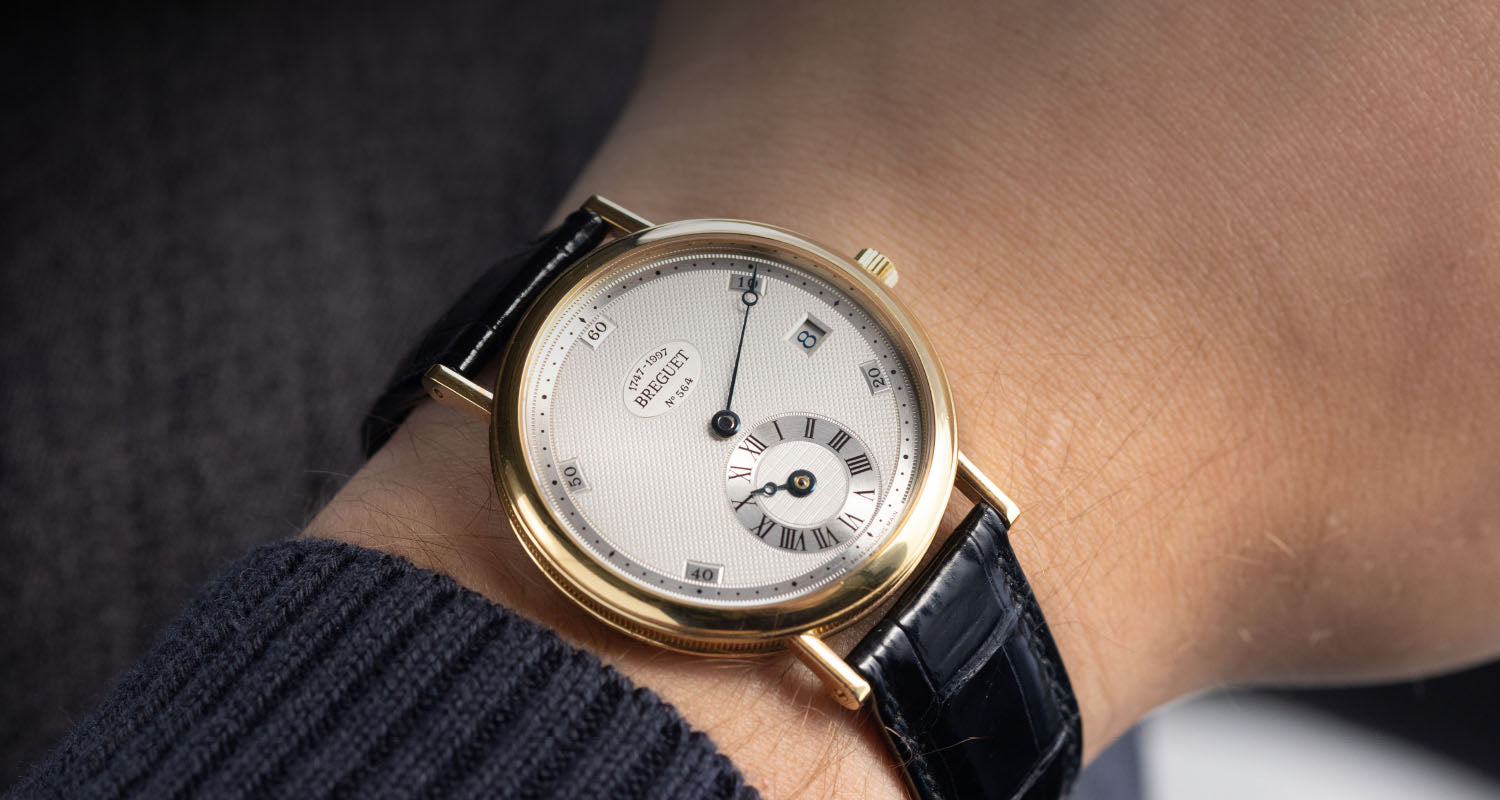 Breguet – The House of Innovation and Style
For many watch collectors, the name Breguet is most familiar for the distinctive Arabic numeral font most famously employed by Patek Phillipe. The Breguet company is, however, far more than simply a special font and dates back to 1775 when it was founded by Abraham-Louis Breguet in Paris, France. Today, the brand is regarded as an historically important maison that is credited with inventing some important horological milestones as well as being a leading light in early decorative finishing of watches, especially dials. From early pieces unique for the French royal family to iconic pilot's chronographs in the 1950s, Breguet is a name synonymous with high quality watchmaking and yet it is still an interesting proposition for collectors looking for something of the highest quality but still somewhat off the radar.

Breguet moonphase ref BA 3280 / BA 3300

History in Horology
Abraham-Louis Breguet lost his father at an early age and yet, from such a tragedy came ultimate triumph. His mother remarried and Breguet's new stepfather was a watchmaker. Young Abraham-Louis became fascinated by watchmaking which led to him studying under Ferdinand Berthoud. Berthoud was a watchmaker of some repute who was Master Watchmaker of Paris by appointment to the King of France and the French Navy. Breguet also studied under Jean-Antoine Lepine who was also one of France's greatest ever watchmakers. Both teachers left considerable horological legacies, much of which sat with Berguet who went on to establish one of France's most important watch brands ever.
One huge benefit of working under two such watchmaking luminaries, was Breguet's access to the royal court. In the 18th century, artisans relied on patrons to support their work and so it was that Abraham-Louis was thought of very highly by Queen Marie Antoinette and King Louis XVI, who between them bought a number of his watches. This was key for the success and reputation of the Breguet brand and it became very successful. One of the most famous watches of this era is Breguet No.160, which was a watch commissioned for Marie Antoinette and contained a great many complications of the era.

In 1807 Abraham-Louis's son Louis-Antoine joined the company and it became known as Breguet et Fils (Breguet and Sons…kind of like Bulang and Sons!). By 1833 the business had passed on to Abraham-Louis's grandson Louis Clemont Francois. Louis was the last of the Breguets to control the company before it passed over to an English family, the Browns who controlled Breguet from 1870 until 1970. After a stint of ownership by different companies, including Chaumet who relocated the brand to Switzerland from its homeland of France in the mid 1970s, it was bought by Swatch Group in 1999 where it still happily resides.
Important Innovations
If you ask people who invented the first automatic watch, you will probably get a range of answers. The actual answer is Abraham-Louis Breguet who invented what he called the Perpétuelle in 1780. In fact, Breguet designed and made the very first wrist mounted watch too. Breguet also developed the first gong spring, which paved the way for the chiming minute repeaters that are so coveted now by collectors. Arguably, however, his most important invention was the tourbillon, a complication that is still very highly prized today and is even a category at the annual Grand Prix d'Horologie De Geneve to this day. The tourbillon is an enhancement of a movement's escapement and is a cage in which the escapement is mounted. The accuracy of a watch's movement is always impacted upon gravity, especially the escapement which is the hairspring, pallet fork and balance wheel. The cage slowly rotates, thereby negating a lot of the gravitational impact on its accuracy.

It wasn't all about watches with the Breguet family though. Abraham-Louis's great great grandson Louis-Charles Breguet did not go into the family watchmaking business (hence the Brown family takeover) but instead became one of the great pioneers of aviation. Louis-Charles developed the first gyroplane, a forerunner of the helicopter, that made the first piloted vertical-ascent flight in history. Louis-Charles built and flew a fixed wing plane called the Breguet Type I in 1909 and two years later founded what became Breguet Aviation. Breguet aviation were key suppliers to the French military in both World Wars.

Despite not going into the family watchmaking business, Louis-Charles remained friendly with the Brown Family who were running the watchmaking business. It was through this friendship that the Brown family became the supplier of dashboard clocks and chronographs in Breguet Aviaition planes throughout the wars. The watchmaking wing of the family also supplied wristwatches for the pilots of the watches, supplied through Breguet Aviation. In 1954, having become official suppliers of watches to the French forces, Breguet delivered its first Type XX pilot's chronograph. The Type XX set the standard for many iterations that followed, that were all based on the 38mm steel case, black bi-compax dial with painted Arabic numerals and a rotating bezel. Of note, it was the Breguet Type XX that was one of the first wristwatches to feature a flyback chronograph.
Delightful Designs
Breguet is also regarded as one of the earliest designers of watches, with a number of distinctive aesthetic attributes being credited to the brand and in particular founder Abraham-Louis. Arguably the most well-know are the Breguet numerals. The stylish numerals are slanted, what we might call italic, with tapering serifs that only ever appeared on enamel dials (a custom that the brand still maintains to this day). The style first appeared in 1790 but became well-know and used by other watchmakers from the early 1900s. One brand that has used them on some of their most collectible and desirable watches is Patek Philippe. Often found of unique pieces or special series orders, the numerals are applied as opposed to being painted.

Breguet hands are also a hallmark of the brand. The hands, often blued metal, feature what are referred to as hollow moon tips. These hands have circles towards the end with a small pointer on the edge. They have remained, much like the Bregeut numerals, unchanged for over two hundred years and are one of the most distinctive elements of the brand's output. Other techniques that are well-known today that were pioneered by Breguet include engine turned dials. Guilloche finishing on dials that Abraham-Louis developed include Clous de Paris hobnailing, sunburst, barleycorn, waves, cross weave and checkerboard. Case design is also a key feature, especially coin-edged cases that are beautiful in precious metals.

Breguet Regulator 1747 - Special Edition " 250th anniversary of the birth of Abraham Louis Breguet1747 ".---limited to 300 pieces
In the current market, there are many beautiful watches that are either so valuable as to be unattainable or are hyped beyond what many see as a reasonable price to pay. We believe that a brand like Breguet offers something a little different for the discerning collector. Quality is always important and there can be little argument that Breguet watches are of the very highest quality. The design and finishing of these watches is stunning and they are not as ubiquitous as other more predictable brands. They are cool and, in many ways, underappreciated and that is one of the reasons that we love them!

Breguet  Classique Chronograph White gold ref. 3237