From Regattas to Royals to Hollywood - An Original Owner Rolex GMT-Master 1675
Imagine a watch that has been worn in some of the most important yachting races in the world, been in the presence of royalty and helped keep Hollywood actors safe. We have found a fantastic watch with a killer story and it's always exciting for us when we have something extra-special and cool to offer you guys, especially when it's one of our favourites, like this original owner vintage Rolex that was a gift from the President of Rolex in 1972.

Original watches are always fantastic finds; watches with a story of different adventures and with the signs of wear that are all part of the piece's story. Then it's over to you guys to continue the story and choose your own adventures. Today we present to you a vintage Rolex GMT-Master from 1972 that has lived a good proportion of its life at sea and the rest of its time in the company of celebrities and world leaders and is available now in our shop...
True Tools
To properly understand tool watches, it's important to remember that they were designed, manufactured and sold with the express purpose of being used in professional situations. Divers, pilots, scientists and racing car drivers were all targeted by Rolex as the end users for watches that would both aid them in their pursuits and also be rugged enough to withstand the daily rigours of a professional life. One man at Rolex was key in the development of these watches in the 1950s, Mr René-Paul Jeanneret. Through the 1950s and 60s, Jeanneret was the Public Relations Director and was instrumental in the concept of the sports watches that the brand offered being able to be used professionally. One watch very close to his heart was the GMT-Master, a dual timezone watch that was devised for pilots to wear and monitor two timezones. It was Jeanneret who is believed to have fostered the link with Pan Am, who were the original research and development partners for the GMT-Master.
Professional Prizes
Everybody knows that for decades now, the winners of the Daytona 24 race have been awarded Cosmograph Daytona Daytonas. Champion tennis players, golfers and equestrian eventers have also been awarded winners watches for many years by the venerable brand. The Submariner was the obvious choice for sailing champions in the 1970s, the Yachtmaster came in 1992, and was the watch of choice for winners of the America's Cup.

Our original owner's Rolex story begins when he was a crew member on one of the 1970 America's Cup finalist vessels and was presented a Submariner by the then President of Rolex.

Our owner had a habit of getting into deep conversations and long-term friendships with many of the important and influential people that he met over his life. On the occasion of being presented with the Submariner, he was afforded an open-ended invitation to visit the Rolex headquarters in Geneva any time that he was due to be in Europe from his home in Australia.

Sure enough, some two years later in 1972 our owner was due to be in Geneva and took Rolex up on its offer for the visit. He was met by the President who gave him the tour, which included the manufacturing facility and a visit to the see some of the archive pieces. At the end of the tour, it was requested that he hand over his Submariner and in its place, he was given a brand new GMT-Master reference 1675. He was delighted with his new watch and wore it continuously for the next 50 years.

André Heiniger, Rolex President from 1964 - 1998
A Life Well Lived
Post-1972 our owner continued to take part in America's Cups aboard the 12-foot class yachts, including Gretel II, Southern Cross and American Eagle. He laso competed across the world in other yachting events and was on the crew of yachts that set records for transoceanic speed trails. He also sailed with famous yachtsman and philanthropist Ted Turner, winning many races and undertaking the 2500km Hobart to Aukland sea race. Co-skippring winning yachts in regattas in the UK, Miami, San Francisco, Florida and the Bahamas are all feathers in his cap – he's a true seaman.

Following a successful career competing in these events, our original owner then went on to work in support roles at such events. One time he was employed by his oldfriends at Rolex to skipper the boat of the official photographer for the Rolex Hobart Sydney high-speed race and was often the skipper on other support vessels at international yachting races. His sailing skills were also called upon in both war-torn regions and at the scenes of natural disasters, to skipper boats delivering supplies in difficult conditions or advising on maritime systems and solutions for private industry.

Our owner was also considered a 'safe pair of hands' to accompany dignitaries and celebrities on yachts, including Prince Philip the Duke of Edinburgh, ex-King of Spain Juan Carlos, Crown Prince Frederick of Denmark and the wife of ex-president Jack Kennedy (Onassis). He was also used as a consultant on Hollywood movies, such as Tome Hanks and Steven Speilberg's 'The Pacific', the movie 'Fools Gold' with Kate Hutson and Matthew McConaughey and the iconic Bond movie 'Quantum of Solace'. And if a Holywood star needed to be sailed to and from events, such as Tom Cruise and Penelope Cruz? Yep, our owner was the guy that got the call!

A Rolex Classic
The Rolex GMT-Master is arguably one of the most instantly recognisable sports watches, thanks to its striking red and blue bezel, Oyster case, classic Mercedes-pattern hands and the red 24-hour hand. This original owner watch from 1972 remains in original condition with beautiful matte dial. The watch has always been looked after by Rolex and part of the accompanying documentation includes service paperwork confirming services and some replacement parts such as the bracelet and bezel insert. Far from being a problem, we see these replacement parts as being a happy part of the story and integral to the life of this amazing 1970s Rolex sports watch. If you're looking for an untouched safe queen, look away now. This watch is cool and has lived its best life. Are you ready to take it onto the next chapter?

The original owner Rolex 1675 GMT with amazing provenance. You can buy it here...
The original owner enjoying his Rolex 1675 for 50 years...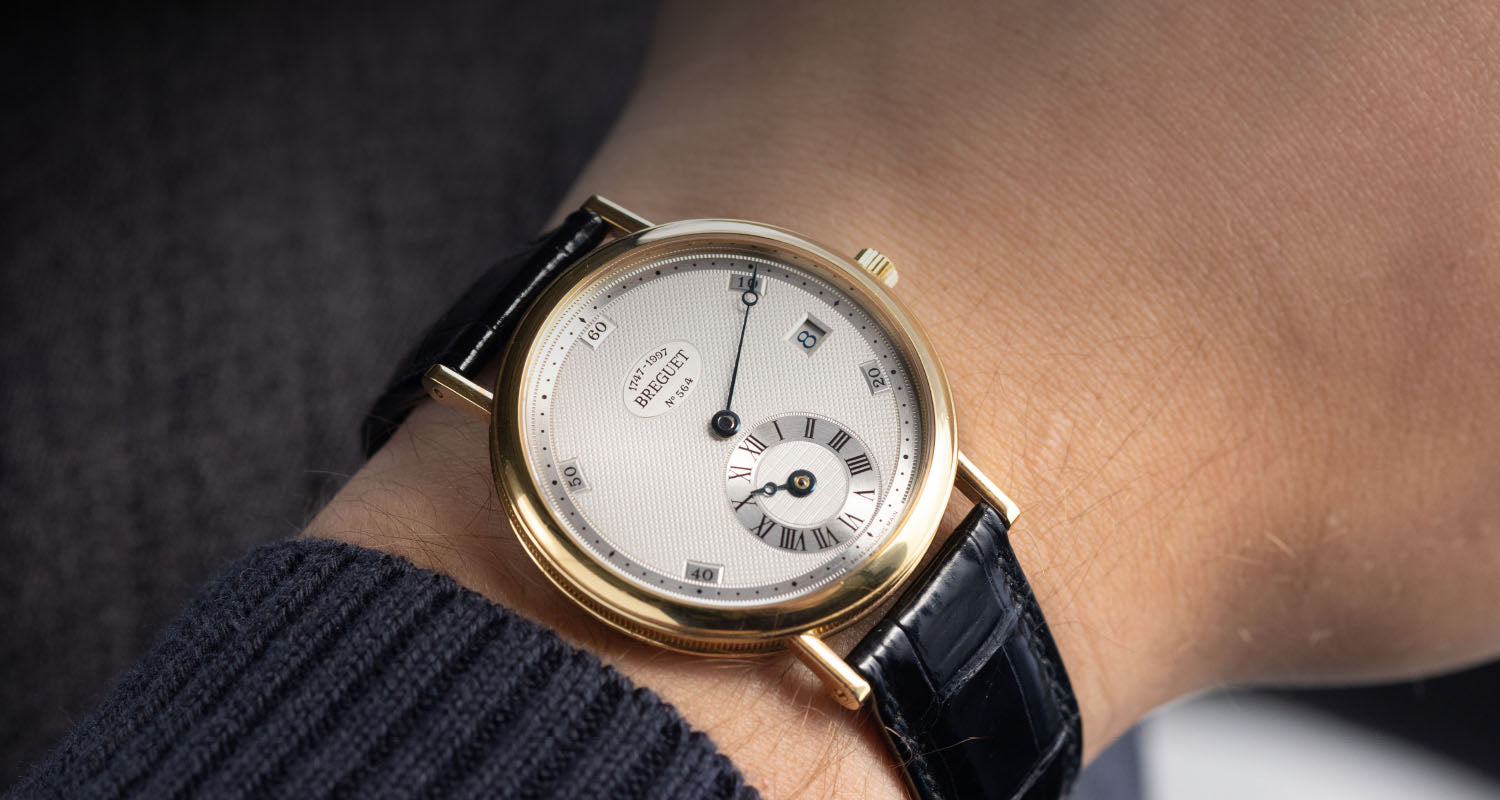 SPOT ON – PATEK PHILIPPE AQUANAUT 5065
1997 was a year of cultural significance, with a number of important events that would shape the landscape for many years to come. Steve Jobs went back to a struggling Apple, 12 years after being ...
Read more