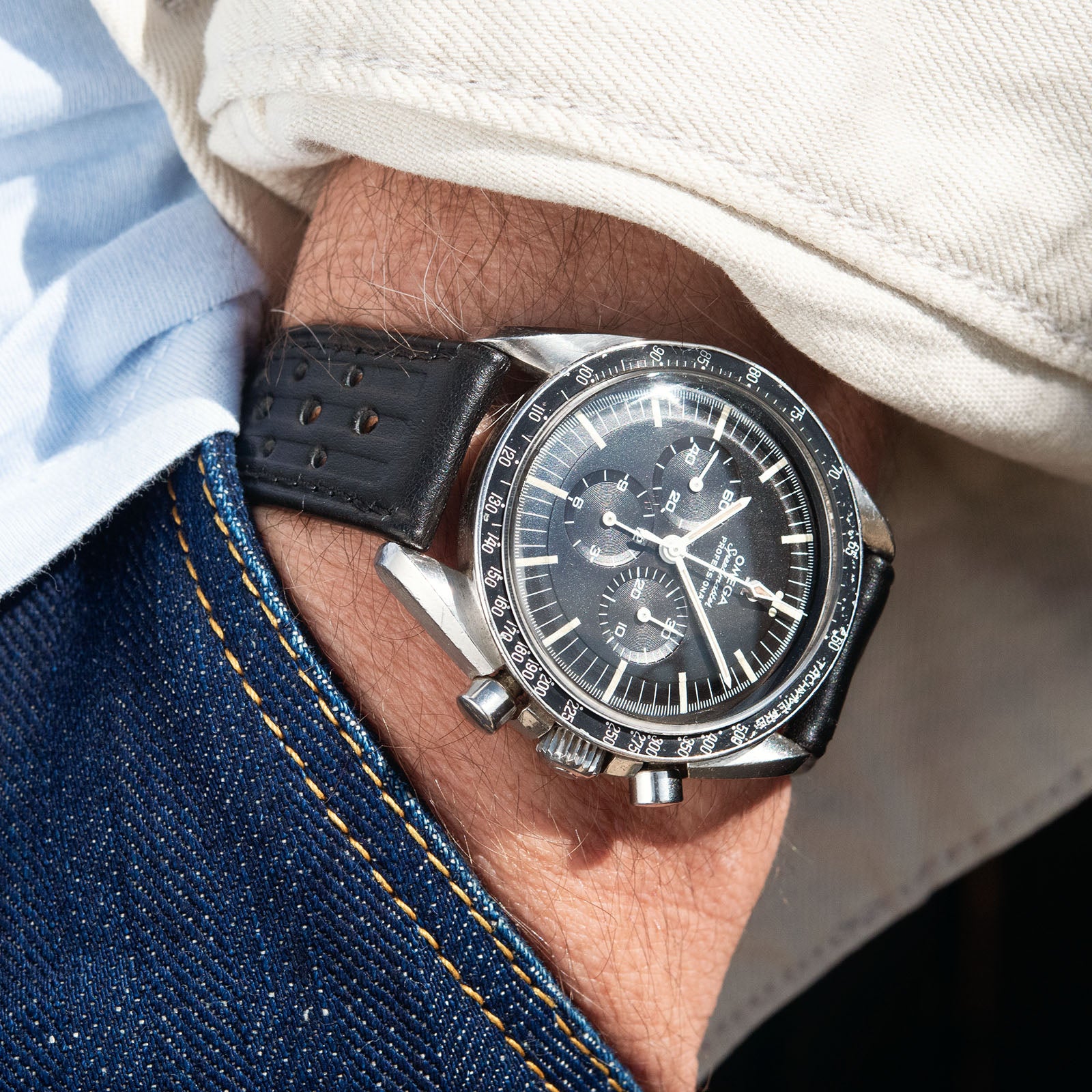 THE ORIGINALS: MADE LIKE BACK THEN – WEAR LIKE TODAY
Omega Journey Chapter 4: The best compliment for your Speedy
At some point every journey comes to an end and so now does this Omega one too. For me it was a great experience taking a step away from my daily work and reflecting on the past fifteen years and how my life with watches developed. Turning your hobby and passion into business is always a tough one. And being able to do so for many years puts a smile on my face every day. It is the biggest lesson in humility, to understand how lucky I am to be able to do so.
Bernhard Bulang
Meeting and working with like-minded people, sharing thoughts and creating things together was and is always the highlight for me.
A perfect example was meeting the kind, elderly collector I mentioned in Chapter 1 (LINK here). The NOS Omega 105.003 Ed White on its original leather strap was a revelation to me – a truly untouched piece.
The NOS Omega 105.003 Ed White, as sold back then. Picture taken by the collector years ago for his collection 'archive'.
The watch alone was nice but what I always love are the stories people share with their watches. The gentleman found it on one of his many trips searching for watches all over Europe. And that meant visiting any watch dealer a city had to offer. This one was found in the 70s from an official AD. In an era when quartz watches were on the rise and the demand for manual or automatic movement watches was decreasing dramatically. These watches became more and more impossible to sell and mostly disappeared in to drawers or were presented only on demand by interested customers. Against all odds, he ventured out and focused on hunting for exactly these pieces. Any watch collector would now call him a genius for doing so. But, for sure back then, many called him crazy to do so. Buying watches that seem to be outdated. Its important to remember that the amount of watch collectors was, by far, not what it is today. Also, the term watch collector was a whole different one as one might define it today. A watch had to display the time, as precisely as possible with the least possible amount of maintenance. So why should the wider consumer group be interested in winding their watches again?
Another NOS Omega Seamaster from his collection
Another crazy piece from his collection… Universal Genève
This collector loved the mechanical watches and was convinced that buying them at these incredibly low prices would pay out at some point. As a collector he had a small handful of watches that he wore. The vast majority were never even worn once and each was sealed in double layer of plastic, and have sat in his vault ever since. Completely untouched – incredible! It was a great joy to see such an amount of 'virgin' watches in this condition. True time capsules giving you a glimpse of a time long ago. Outstanding pieces from all the important Swiss manufactures. But the crisp Ed White was my personal favorite. With this proof the nowadays Dogma that a Speedy from the sixties must feature a certain steel bracelet to be in original condition seems to awake a new perspective. I personally was already convinced that Speedies were delivered to and sold by ADs on leather straps. And this find, including the collector's stories, confirmed that back then many of these watches were sold on a leather strap only. 
The original strap the Omega 105.003 Ed White was delivered with
Same strap style also used on this NOS vintage Soccertimer Seamaster.
Here in chapter four, I am delighted to introduce a special project that was triggered by this particular experience.


This watch and its strap kept running through my head
The hunt was on! As my favorite look for the Speedmaster is on a leather strap, it became my goal to create a modern interpretation of the original version of that exact strap used on the Omega Speedmasters back then. During my research for sources, manufacturers or simply any person who could help find information on these straps, we found out some amazing facts about the watch industry and retailing of watches back in those days. Traditional manufacturing and development of straps over the last fifty years took a very interesting development.


And I found the right partner!
Guess what… I found the original company who created the straps for most of the big Swiss and German watch brands from the 40s until the late 80s. Including the actual Speedmaster one. It seems like they were still up and just about to pass over to the third generation of watchstrap manufacturing. I was excited to meet them and find out more about their heritage, craftsmanship and what they are offering today.
On my way to visit the production facilities
Wilhelm Leo Kaufmann founded the company in 1942 with its headquarters near Frankfurt in Germany. They had one goal – to create the best watchstraps in the world. And until today, Kaufmann is still run by the family with the same attitude and ambition. In all those years they have worked from three main manufacturing locations in Germany and Switzerland and have been the creator/innovator of many of the key straps we know from the big brands. Constantly innovating but also keeping all their heritage, tools and special techniques to create these straps. Often forgotten craftsmanship that is unique to the market with 77 years of experience. Developing and using their own techniques, tools and machines to do the job, with that German/Swiss ambition for perfection.


A real Family business 
I met Mr. Cornelius Kaufmann, the second-generation owner and director of the company at their German main office. I was lucky to meet a man with some great stories and a unique humour who has been involved in the company since his childhood. Helping his father and adapting all the techniques, finesse and knowledge about watchstraps, leather and of course the business. Instead of doing homework he already helped in the production and accompanied his dad on his business trips.

Mr. Cornelius Kaufmann, 2nd generation owner of the family company and since his childhood involved in creating watch straps. The man who has seen them all…
A life of enjoying timeless quality and collecting. Great talks and insides into the watch world of the 60s, 70s and 80s…
A day of passionate and exciting talks about their history, innovations, creations and craftsmanship was over before we knew it. And it was clear we shared mutual interest and passion in many topics.
It was a very exciting trip. You won't believe all the great, crazy and funny stories about those days. Man, I wish I could use a time machine to join the Kaufman family (we're talking about the real family, mum, dad, kids, uncle, aunts) waiting for the next delivery of 400-500 Speedmasters that urgently needed their Straps fitted beacuse the authorized dealers (AD) were impatiently waiting for them. To finally sell them exactly configured as the one I got from our collector. Stories about obsolete materials and techniques. Details about the stamps on the back of the Omega straps. And also talks about trends and changing styles over the last decades. It was a pleasure but also very revealing to listen to all the stories.
And with mutual interest and respect in each other's work it was a quick decision that we will join forces and work together.


Awaken the heritage
Today's Kaufmann business is focused on high quality straps for modern watches being retailed by local AD's. But after all the great stories and the simple fact that the original tools were still available, it was a no brainer that whatever we want to do, we had to kick off with the Speedmaster strap. Our target: Awake the heritage of Kaufman and add our taste and feel for vintage watches in a contemporary context. Using handmade techniques, original tools and the finest leathers of today. Let's be honest, when you know or have touched any original strap from the 40s-70s you will know that the materials were not always the best. The feel was a bit cheap and artificial.
Even if unused and still in display condition, you see the aging and flaws of the strap. The material feels artificial and harsh. Typical materials from back then.
It was always a tough one for any manufacturer as the strap was never in the focus of the watch brands. They were certainly not thinking about it being a luxury addition. It was a production with big numbers in a crazy market and simply seen as a necessity to keep the watch on your wrist. Often low quality or even artificial leathers were used. In the late 80s the use of high-grade leathers became more common and Kaufman was able to prove what a masterpiece a watchstrap can be.


And that was our idea: 
We combine the original tools, the soul and craftmanship of over seventy years of experience and add the Bulang and Sons sense for quality and details to create the perfect strap for your (Vintage + Modern) Speedmaster. Praising the original heritage with subtle style and the highest quality. This very quickly turned into a collection and not just the one perfect strap for your Speedmaster.


A collection that makes use of the finest leathers, fully handmade and finished with a new buckle design to offer the perfect straps for your vintage watches but also adding a lot of vibe to their modern successors. 


THE ORIGINALS: MADE LIKE BACK THEN – WEAR LIKE TODAY
After several brainstorms, concept designs and tweaking different samples we were ready for production. And with the production facilities in nearby Germany I wanted to be an integral part of the process. As we only sell what we believe in, we visited the factory in the deep green lands of Germany to witness how our Originals straps are made. Just like we did with our great Italian craftsmen JPM , I would like to invite you to join the passion and soul in these creations and get a look behind the scenes. All handmade with 83-92 individual steps.
 In a small German village with long tradition in leather craftsmanship the manufacturing of our Originals straps takes place
Old traditions, experience and modern production qualities. A team work of sadlers.
Just a small part of the leather archive.Some of our new straps feature all hand stitching. Strap by strap, stitch by stitch… the ultimate quality and craftsmanship.
So let's go and discover the origin of our first creations with Kaufmann:


Taurillon Speedy Leather Watch Strap
Here it is … the combo I was dreaming of. An Omega Ed White 105.003 on our new Taurillon Black Speedy Leather Watch Strap. Available here.
Available in 20 and 19 mm here.
The strap that initiated my journey and this collection. This is the design the original Ed White Speedmaster was sold with and has been used from the end of the 1950s up to the early 1960s on many Omega sports watches too. For me, one of the nicest classic shapes with the tapered square end.

It takes that classic chronograph into both sporty and elegant atmospheres. It is iconic in its shape and we took it to the next, Bulang and Sons, level. As I also love thin and comfortable straps, I selected the finest Taurillon bull-calf leather, tanned in traditional French tanneries, that is also supplied to the most prestige bag brands, such as Hermès for example. 
An amazingly soft-to-the-touch leather that is used on both sides and combined with a thin padding to keep it thin, whilst ensuring the highest comfort and durability a watch strap can offer.

With additional heat lines I added extra depth and refinement to compliment the watch's details. At the end of the 80-step handmade process, they're rounded off by a brushed finish 16 mm steel buckle made in Switzerland.
The original tools – 77 years of experience, development and constant improvement of tools and products.
What I love most about this strap (next to it being so crazy comfy) is that it's just there to make your watch pop. It's strong and vibrant. But it is also distinct enough to step back and let all the glory shine on your watch.
We also offer this strap in a classic brown color… and more coming up.Shop here

Racing Speedy Leather Watch Strap
But the Speedmaster line was continued with crown guard versions?

Right! And guess what, this is the original strap that was featured on the following pre-moon Speedmasters like the 145.012 and up to the early 70s releases. You might be familiar with these styles on Heuer watches from that era. But Omega used them also. And they did it even with a bit more depth and added the characteristic 3 heat-pressed grooves next to the racing-style holes to create a unique and recognizable design.
Surprised? I was. Although it makes total sense, as the Speedmaster was and is a Chronograph and it fits perfectly! Back then they were produced in black or blue Corfam, an artificial leather from Dupont. To honor and recreate this awesome design I selected the finest black calf skin with the exact tiny bit of gloss to give rise to the perfect sports watch heritage. The complementary 16 mm Swiss made buckle is accompanied by something a little special for all you strap lovers out there: The 'Easy-Change'  system, which features an integrated spring bar that allows changing watch straps in seconds. So here it is, the finest compliment for your pre-moon and also modern Omega Speedmaster. Any of  the 20mm versions out of the 50 years of timeless iconic chronographs are ready to be married to this beauty.
Created with the original tools from back then… but with the finest contemporary leather.
This strap is fitted with the 'Easy-Change'  system, which features an integrated spring bar that allows changing watch straps in seconds. You can shop this strap here
Heritage Leather Watch Strap
The third strap style was triggered through my experience with typically Vintage Omega dress watches but also several other vintage chronographs from Universal Geneve, Movado, Minerva, Longines and many others. The vast majority of these watches were sold featuring a certain kind of leather strap back then. Mostly light beige colors, added details like heat lines at the edges, elaborate round edges and the typical rounded tip at the longer side of the strap. A style of strap most of us have forgotten over the years. Unlike like a steel bracelet, the test of time was impossible to win for those old leather straps, whether the watches were worn or not. 
Actually, one of the reasons to start selling watch straps was my love of and desire to buy more and more of this kind but always head only. Sometimes they might be fitted to a horrible strap that depreciated the value and appearance of the greatest watch. What misery! Even today I feel sad for any nice watch that is worn on an ugly strap. Have you ever seen someone buying a nice and sometimes expensive car and let it roll on shabby steel rims? A vintage Sub on its steel bracelet was way easier for me. Buy and wear. Head only watches always took extra time to find the right strap before I was ready to wear it. Or even post a wrist shot

Today I'm happy to be able to play with all our straps and give them the right look for any occasion! And once again I was reminiscing on that watch collector and his crazy collection. Some of the watches still had this exact type of leather watchstrap. All of them had quality issues but the look that was created through them in real life was to fall in love with. Looking at the untouched NOS watches and also searching through vintage advertisements for these types, I was always intrigued by the straps they originally had been sold with.

The Taurillon Grey Heritage Leather Watch Strap
And it was as simple decision to re-create these types and add them to the Bulang and Sons portfolio to enrich the strap collections we already have. With Kaufmann I found the partner to do them in the exact way that I wanted them. Kaufmann was one of the main suppliers in those days who originally created exactly these strap designs that we like so much. And nice to know… Mr. Kaufmann Senior already nicknamed them the Omega Straps. No matter for who they were produced back then!
These straps have been fully handmade in over 92 steps in the exact same way as they have been created back in the days. Not cut off at the edges, but full rondé finish, with the top layer folded inside under the backside leather. This technique is used for all straps of the Originals collection. 
A beast combined with a classic dress watch or chronograph likethis Universal Genève Tri-Compax.
Inspired by 50s strap design, it looks amazingly with your Speedmaster and other Sport watches. You can shop this strap in different lug widths here
Of course we added our mojo and personal taste to the straps featuring the finest Taurillon bull-calf leather like the Speedy strap and created a sophisticated and contemporary look & feel. A refined evolution of  the vintage original, exclusively custom made for Bulang and Sons.
And for the brown version we took the whole thing even further…
Softness at the ultimate level
You know what the finest and softest driving gloves, are made of? Peccary leather from South America, tanned in the Bavarian woods. Prized for its durability, elasticity and suppleness it offers the ultimate softness and touch. We selected this leather with its distinct grain as top layer for the brown execution. Words can hardly describe the sensation and feel of these straps. We caught ourselves fondling the strap when wearing again and again 
Softness and feel at the ultimate level… you can find here
The typical 50s elaborated round edges and the rounded tip
I have not felt any softer leather then this one yet!
Witness how these straps are made
So let us take you inside the process and show you some of the 92 steps and craftsmanship put into these straps. And hope you are just as excited as we have been about the work and detailing that was put into these creations.

Each Originals strap starts with  punching the basic pieces. With over 90 steps to follow.
comfortable strap
Integrated cord, padding and glass fiber underlayment for not only that great look and feel, but also for tearproof quality.
This Heritage strap is shaped by hand. You can see them come alive. The full rondé finished (folded inside) top layer is another distinctive mark of finest craftsmanship.
Shaping by experienced hands.
Even more steps of detailing, grinding are needed before the strap can unite with its backside.
And more steps to follow…
Finally shaped with the original tool the raw strap is ready for its final steps.
Heritage in motion… the keepers of the strap are still made with this decades old machine. You won't imagine the effort put into the keepers only.
Almost ready …
The last steps of stitching and punching reveal the final result
A new day, different mood, fresh strap
We hope you will enjoy our new creations and this collaboration with one of the most established German strap makers. Of course we will not stop here and keep hunting for new inspiration and designs to keep your wrist game fresh and interesting. 
It'd like to thank anybody taking time to follow me in my Omega journey over the last weeks and I hope you had as much fun with it as I had working on it. Greetings from the Bulang and Sons office. 
– B. Bulang-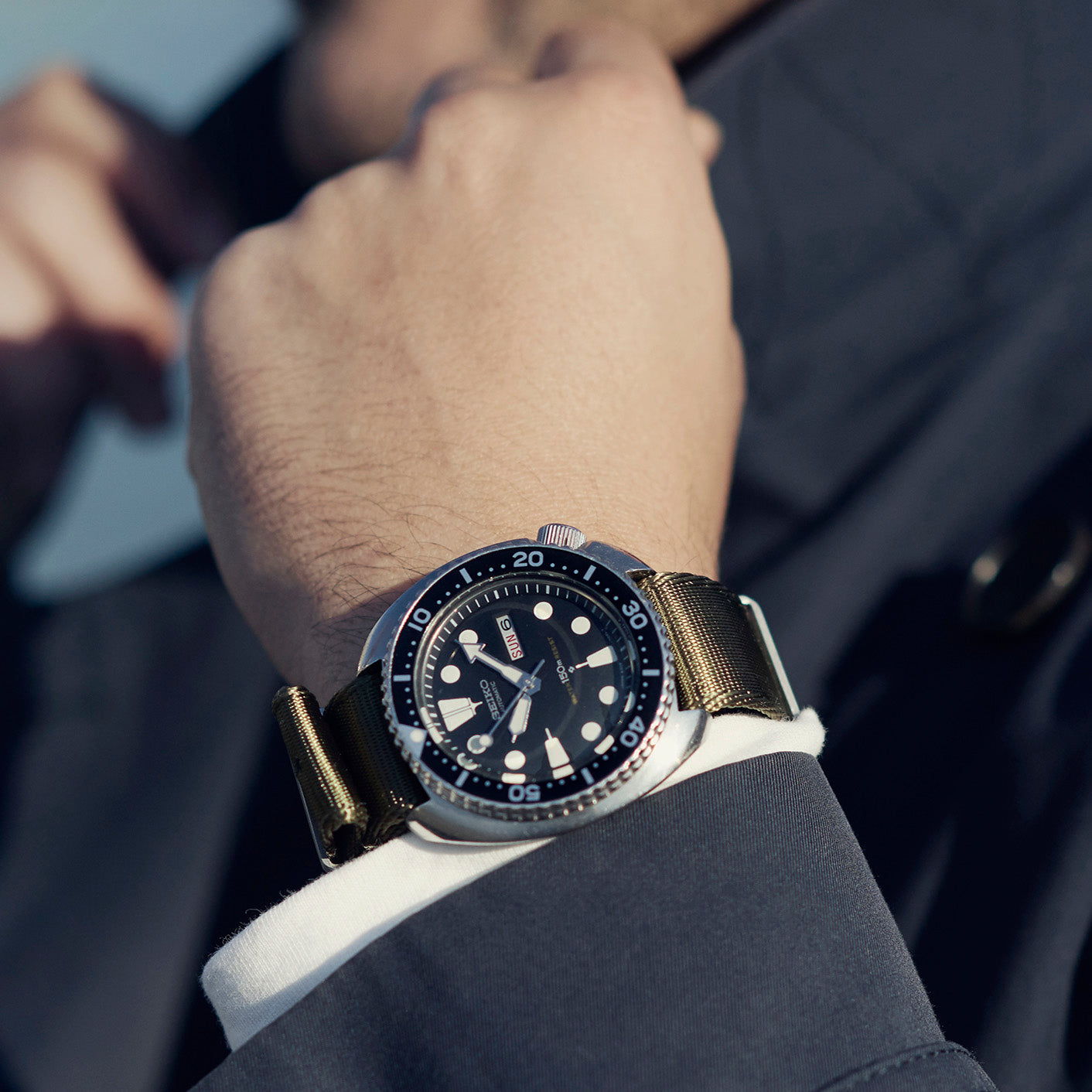 Strap Guide – The Seiko 6306/6309 Turtle
Welcome to the Bulang and Sons Strap Guide. Our aim is to showcase some of our most popular straps on a range of iconic watches so you can see how the different combinations work. Turtle Time First...
Read more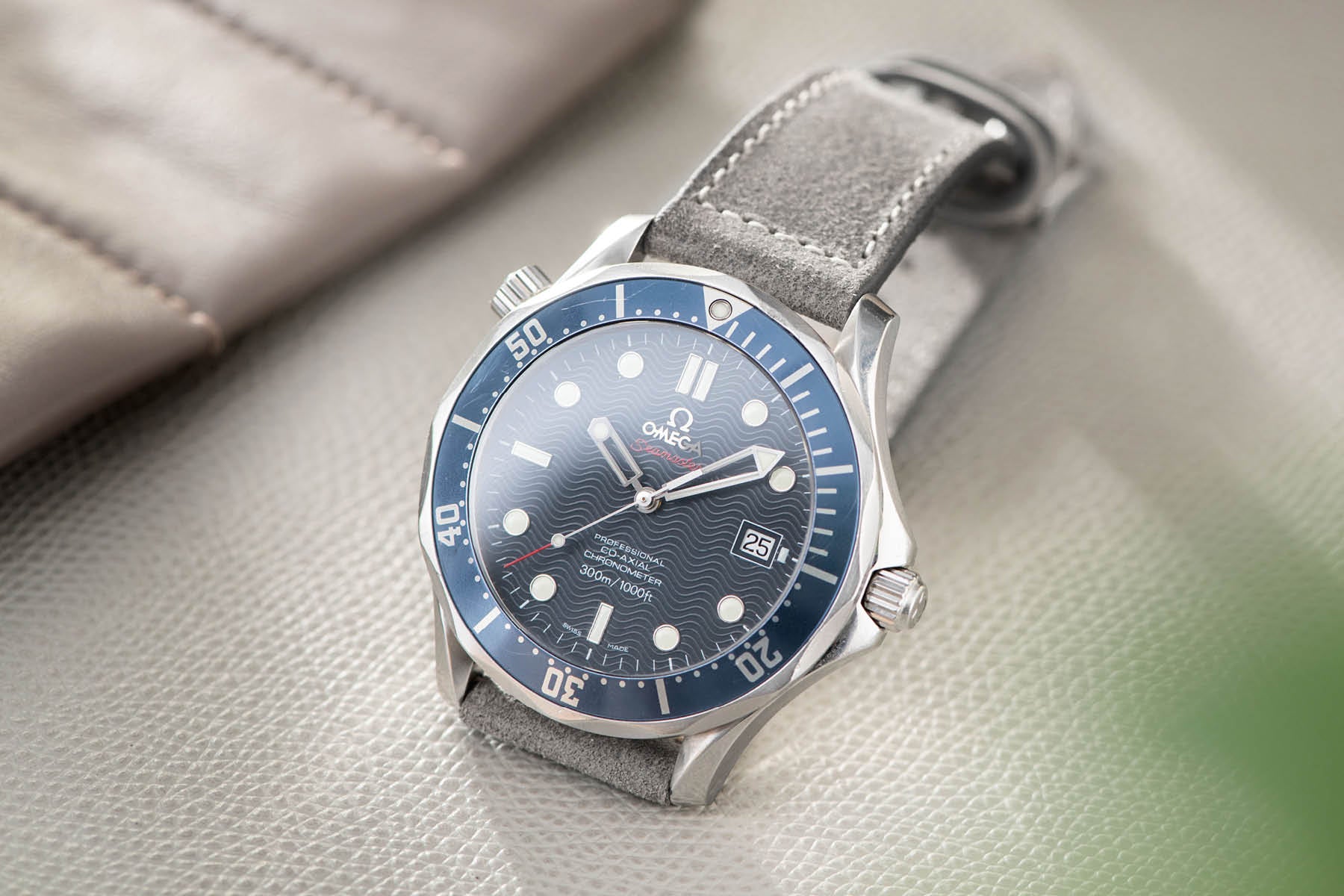 Welcome to the Bulang and Sons Strap Guide. Our aim is to showcase some of our most popular straps on a range of iconic watches so you can see how the different combinations work. The Omega SM30...
Read more